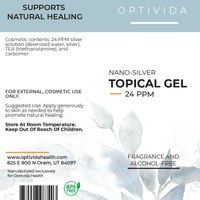 1.5-Ounce Tube: Now take the protection of Optivida Nano-Silver Gel with you wherever you go. In a convenient 1.5 oz. tube, you will have peace of mind with Nano-Silver in your car, boat, RV, diaper bag, purse, or airline carry-on.
Skin-Soothing Silver: Optivida's nano-silver skin gel is designed to soothe skin and promote natural healing. It can be applied directly or safely added to other skincare products.
Topical Treatment: This solution features a 24-ppm (parts per million) silver concentration, deionized water, TEA, and carbomer. It's BPA-free and fragrance-free, so it can be used on sensitive skin.
Healing Hydrogel: A versatile skincare product, Optivida's silver gel can help heal minor irritations, wounds, burns, blemishes, and more. It can be applied to a minor scar, rash, or sore as needed.
Fast-Acting Relief: Its unique coating makes the silver attracted to surrounding water molecules, making it more stable and bioavailable for your body. This allows the gel to work faster.
This fragrance-free soothing skin gel is designed to support your body's natural healing. Apply directly to the skin to fight against germs and soothe minor irritations, wounds, burns, blemishes, scars, rashes, sores, and more.*
Optidri technology
This patented technology is the foundation of our supplements. It's the only technology capable of drying whole foods in their entirety without losing any flavor, color, or nutrients.
Learn More
Optisorb technology
This patented processes encapsulates the hemp oil to ensures that 85% of our hemp is absorbed into the body. Meaning that our hemp is 17x more effective when compared to other products.

Learn more