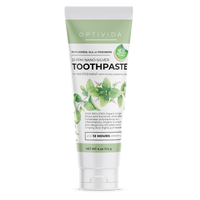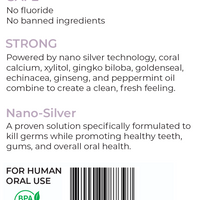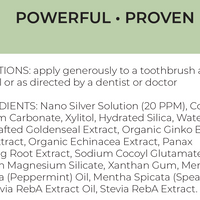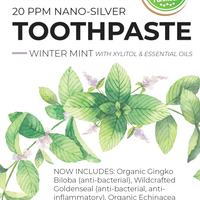 20 ppm Nano-Silver Toothpaste
NEW AND IMPROVED
A safe and effective toothpaste from a brand you trust.
Strong:

 

Powered by nano-silver technology, coral calcium, xylitol, gingko biloba, goldenseal, echinacea, ginseng, and peppermint oil combine to create a clean, fresh mouth unlike anything you have ever experienced before.
Proven:

 

A proven solution specifically formulated to promote healthy teeth, gums, and overall oral health.
Extended Protection: Promotes teeth, gum, and oral health for up to 12 hours.
Safe:

 

Contains no fluoride, BPA, parabens, or harmful sulfates, making this a safe choice for the whole family.  
Optidri technology
This patented technology is the foundation of our supplements. It's the only technology capable of drying whole foods in their entirety without losing any flavor, color, or nutrients.
Learn More
Optisorb technology
This patented processes encapsulates the hemp oil to ensures that 85% of our hemp is absorbed into the body. Meaning that our hemp is 17x more effective when compared to other products.

Learn more