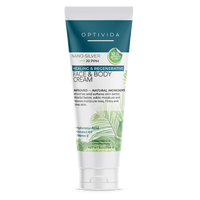 Nano-Silver Healing & Regenerative Face & Body Cream
NEW AND IMPROVED
Still the best protection available for your skin health and beauty with the full power of Nano-Silver from Optivida Health. Now includes the smoothing, relieving and protecting power of natural oils from olives and coconuts, blended with the science of skincare.

Our natural formulation is fast absorbing, non-greasy, and pH balanced. This leaves your skin feeling bright and smooth, instead of flaky and irritated.  
This 3.4-ounce tube fits perfectly in your purse or backpack, stows away in your desk drawer or glove box, and a must have for your medicine cabinet or first aid kit. It's even TSA friendly.
Optidri technology
This patented technology is the foundation of our supplements. It's the only technology capable of drying whole foods in their entirety without losing any flavor, color, or nutrients.
Learn More
Optisorb technology
This patented processes encapsulates the hemp oil to ensures that 85% of our hemp is absorbed into the body. Meaning that our hemp is 17x more effective when compared to other products.

Learn more